Transact Pro implements new Mastercard gift cards in Spice shopping centre
26 Feb 2019

At the end of February, Transact Pro, in collaboration with the Spice shopping centre, is launching the most advanced Mastercard gift cards for use at the shopping centre.
The new Mastercard gift cards will replace Spice shopping centre's own gift cards, enhancing security, reducing infrastructure costs, expanding supply and increasing customer loyalty to Spice.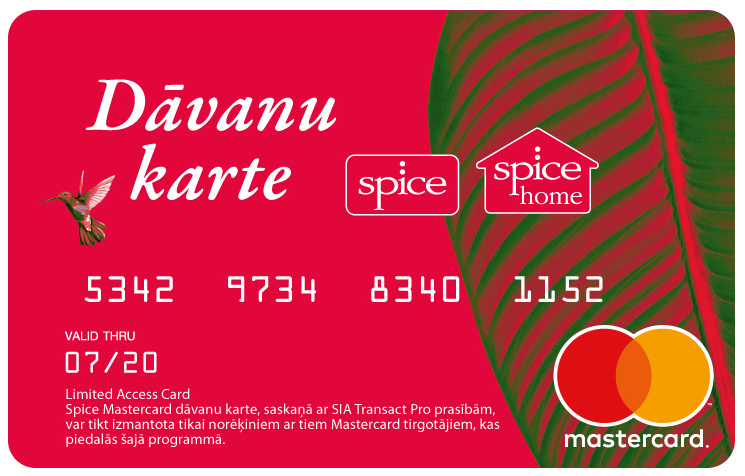 "Shopping centres nowadays do not have to deal with the maintenance and servicing of local systems, which provide gift card acceptance, turnover tracking and settlements with merchants. All processes are counted and provided by the Mastercard automatic payment system," says Jurijs Bordulans, head of the Transact Pro Business Development department.
The gift card solutions used in Spice shopping centre will be the most modern ones to date. These types of cards are much easier to use, and reduce the cost of infrastructure servicing.
The gift card will be available for purchase at the shopping centre. The nominal value of the card will be between EUR 10 and 150. This card will allow shoppers to make purchases at the shopping centre without any additional commission. The balance of the card can be viewed on the Spice website or at the Information Centre as well as accessible by phone from the Transact Pro Customer Centre. If a commission is paid, the balance can also be consulted at ATMs.
The gift card will also have restrictions: it will only be accepted at the shopping centre, will not enable cash withdrawals or adding funds to the balance.
Co-branded or so-called White Label cards have a wide range of applications. They enable companies to issue Mastercard cards with their own brand and design, and supplement them with a loyalty, bonus or discount system. Using Mastercard cards as a tool can help promote the brand by placing the company logo on these cards.
"International payment cards make it possible to optimise card acceptance and transaction processing; they are more convenient for both customers and merchants. Card issuance is a development with great potential for Transact Pro that opens up new collaborative projects with companies in different areas. At present, the company is already working with a number of shopping centres in the Baltic States in the field of gift cards," said Transact Pro board member Maksims Jaroševskis.