Transact Pro launches new ĪSTĀ Mastercard Gift Card
03 Mar 2020
Card can be used in person or online anywhere Mastercard is accepted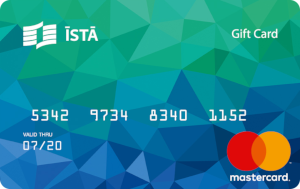 Transact Pro, a leading payment solutions provider, announces the availability of its new ĪSTĀ Mastercard gift card, a convenient and easy-to-use payment card that can be used as a wonderful gift to friends and family. The ĪSTĀ Gift Card can be used to pay for goods and services in person or online at any business in Latvia and around the world, wherever Mastercard payment cards are accepted. Consumers log into a website to review recent purchases, check card balances, and activate cards for secure online purchases.
The card is ideal for daily personal use, when traveling here or abroad, and as safe and convenient gifts for family, friends, co-workers and business associates.
"It is important for us to provide our customers with first-class payment solutions that are universally acceptable and easy to use," says Yuri Bordulan, Head of Business Development, Transact Pro. "Customers can confidently use the ĪSTĀ Gift Card knowing that it is backed by Mastercard and meets the latest security requirements to protect purchases made in person or online."
Consumers can apply for ĪSTĀ Gift Cards by visiting www.ista.lv and completing an online form. Cards cost 2 EUR and are available in any denomination between 15 and 150 EUR. Once the application is approved, cards can be picked up at Transact Pro's offices in Riga.
More information about the ĪSTĀ Gift Card is available on the website: www.ista.lv.
About Transact Pro
Transact Pro is the leader of the Latvian market in the non-banking financial services sector. It is also the first company in the country to operate in this sector, licensed to provide the services in each European Union member state as an electronic money institution by the Latvian Financial and Capital Market Commission, which grants it the right to provide the payment services listed under the license. Transact Pro is a principal member of Visa and Mastercard, owns in-house payment processing center and a proprietary PCI DSS 1 compliant payment gateway.