With 12th place "Transact Pro" achieves Latvia's best ever performance in the prestigious Amsterdam tournament
12 Jun 2019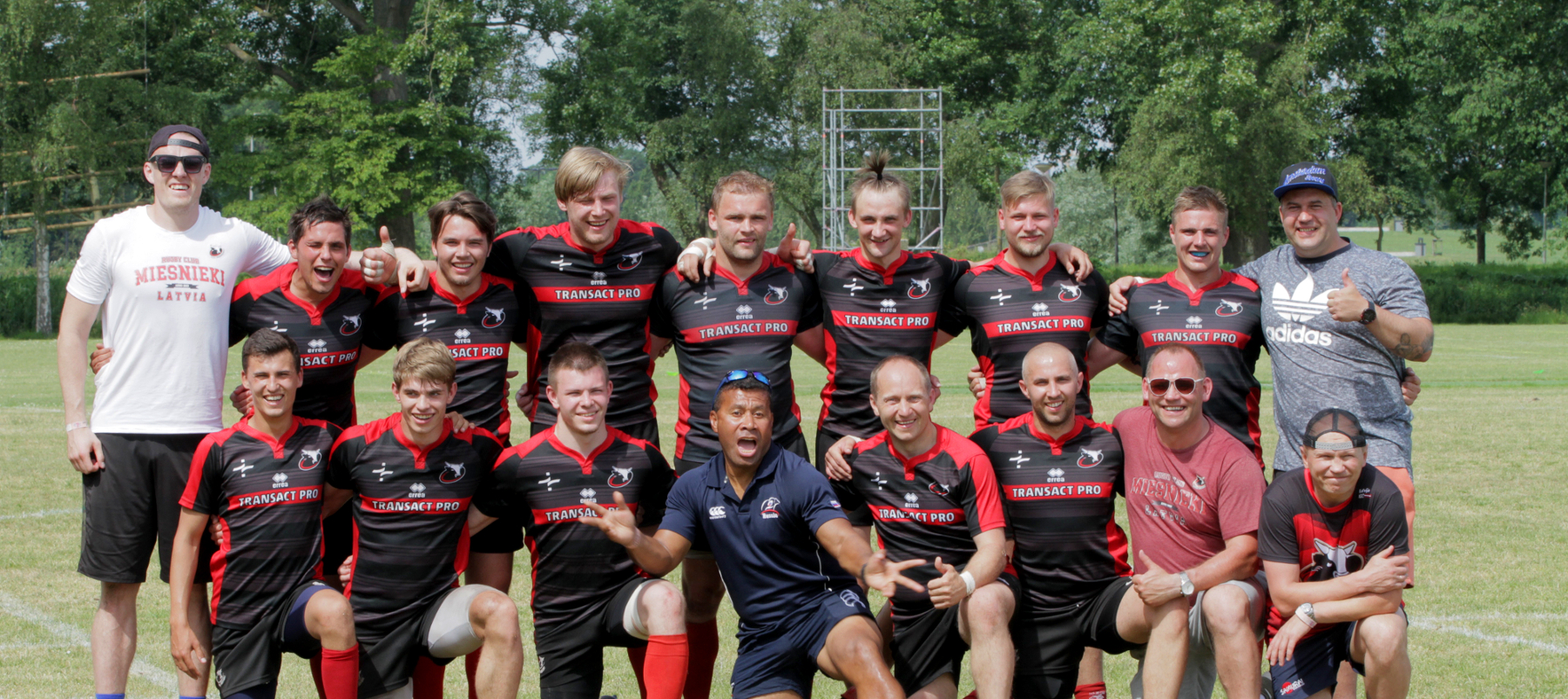 Last season's Latvia's strongest club "Miesnieki" team "Transact Pro" on second of June reached Latvia's best result in the prestigious Amsterdam Rugby-7 tournament, winning the 12th place among nearly 50 teams.
The last eight days for the team and the players were very tense - just in the last weekend, they competed in the St. Petersburg's tournament with the ambitious European Champions Cup name and finished as the ninth among the 12 teams and immediately after that last Friday on the 31st of May they did arrive at the biggest European Rugby Tournament in Amsterdam – the 9th year in a row.
The "Transact Pro" team was unsuccessful on Saturday and lost 0:35 to the Russia Rugby Federation Development Team. And then, from the second match, the series of the Latvian champions victories did start. First, they defeated last year's semi-finalists "Oxfam Crusaders" from Britain by 31:21. And on the first day's last match with 31:0 they beat the Dutch team "A.S.R.V. Ascrum".
On Sunday "Transact Pro" got into the subgroup among the best second place winners in the first phase, and here they played very well. First the victory 21:7 over the combined "Mo Bro" team, which on the first day won the Lithuanian National team. Later "Transact Pro" with 19:10 won the Scottish units "Rex Club Red Kites". This success for Latvian champions guaranteed a fight for the ninth place cup.
At the end of the long tournament, the Transact Pro was short of strength at semi-finals for the 9-12 place, and they lost to the best Dutch players selected team "Turn Over" with 7:40. So the tournament they finished as the 12th.
In the past eight years, the Transact Pro's best result in the tournament was 22nd.
"There is a slight tiredness at the moment, but everyone is very happy about the results! I am proud of the team," says Kristaps Andersons, head coach of the rugby club. Anderson also emphasized that the team understood that nothing has yet been achieved on the first day and that the biggest fight will be on the tournament second day.
"We're excited. Underneath us are Lithuania's National team, Romania, Israel. These teams have high-level international players. On the other hand, above us we have two Russian teams, an international "Samurai" team. The tournament was won by the Paris team "Seventise", who won over "Samurai" team. Their game level is in a very high level. We can be proud of what we have achieved!"